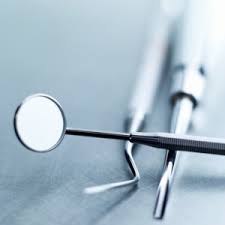 You took two deep breaths, gave yourself a pep talk and finally called your dentist's office to get your dental cleaning appointment scheduled. After a decent amount of procrastination, you are proud to have just picked up the phone and made the phone call, only to have the receptionist tell you that you cannot schedule 'just a cleaning.' You need a periodontal maintenance appointment. What? Most patients are unaware of the difference between 'just a cleaning' and a periodontal maintenance appointment. There is however, a big difference!
A regular cleaning appointment or prophylaxis appointment is a hygiene service for patients that generally have healthy teeth and gums and do not require additional attention below the gumline. A six month recare regimen is typically recommended unless Dr. Kimes recommends a more frequent interval due to dry mouth, orthodontics, high cavity risk, or other concern. This type of recare routine is to prevent disease and in most cases can absolutely be referred to as 'just a cleaning.'
However, there are many cases in which patients do not qualify for this type of service and need additional attention below the gumline. This is referred to as Periodontal Maintenance, which follows therapeutic periodontal treatment, whether surgical or non-surgical. A three or four month recare interval is recommended to maintain gum health because periodontal disease is a chronic bacterial infection that cannot be cured and needs ongoing therapy to remain stabilized. The more frequent interval is required because the bacterial pathogens recolonize, which reactivate the periodontal disease.
When you visit Dr. Kimes for a periodontal maintenance appointment, you will get a re-evaluation of your periodontal disease to check on your pocket depth numbers. You will also be examined for the amount of active bleeding present and instructed on how to effectively take care of your periodontal disease at home. The actual cleaning portion of the appointment often includes both hand and ultrasonic instruments, as well as laser therapy to further decontaminate diseased gingival pockets.
There are many factors that affect periodontal treatment results such as personal habits (most commonly tobacco use), diet, and other chronic diseases such as diabetes.
Overall oral health is certainly a team effort between you, Dr. Kimes and your hygienist. It's easy to put it off, overlook it and plan to schedule 'just a cleaning' when it is more convenient, but ultimately you want to avoid neglecting your oral health… it has a direct relationship with whole body health!